Jeolikot: What do nature lovers like us look for in a vacation these days? A place that helps unwind with self, friends or with family. A place where nature touches you and you can feel the hues of the rainbow and the chirping of the birds.
My story with Vergomont started a couple of years back when a dear friend from Nainital showed me an old dilapidated Victorian bungalow that surely had seen its glory in days gone by. I was intrigued by the ruins and there was something magical about the location. The old trees, the winding road in front of the house and the peaceful feel to the place.
Being a big lover of heritage and stories of an era gone by, I did some more research to find the history of this small village called Jeolikot and its neighbouring areas. On discussions with locals and some online material, it becomes clear that this bungalow was probably the Vergomont Hotel that existed in the early 1900s and has a mention of it in an old book "A Guide to Nainital and Kumaun" by C.W.Murphy, published in 1906.
The link Guide to nainital and kumaun.
Page 26/27 of the book mentions –
"There are only three stages, higher up, between Kathgodam and the tonga terminus. Vergomont Hotel and the Roman Catholic orphanage are passed on the road a short distance below the Brewery. The hotel provides refreshments and the tonga may be stopped at the gate on the cart road, while those travelling by dandy or pony may enter by the gate which is on the bridle road; the road at this point is very narrow and more of a lane running between Vergomont and the Douglas Dale estates. The Vergomont estate was purchased by the late Captain Mansfield, about ten years ago. He started fruit culture and a dairy and *opened a hotel. Since his death his widow, Mrs. Mansfield, has continued the business. Rooms are available for visitors, and it is a favourite picnic resort."
This information excited me and I decided to re-establish the Vergomont hotel and started renovation work on the old bungalow. I decided to renovate the property and set up the Vergomont Holiday Home to give guests a piece of history and the experience of an era gone by. After over a year of tedious and painstaking restoration work, we managed to put the bungalow back on its feet in all its glory.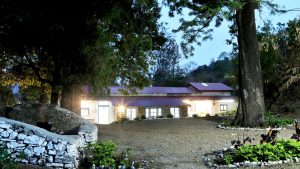 The proximity to Nainital ( just about 13 kms) and yet not being in the mix of madding crowds makes Vergomont Holiday Home one of the best places to stay near Nainital for a holiday.
It is an all-weather destination and very easily accessible by road, rail or air. Driving distance from Delhi is about 280kms and one can get
there in about six hours time. The bungalow can accommodate 10-12 guests but one can book individually also.
Whether you are here for a weekend getaway with friends and family or looking for a place where you can read and write or if you are an avid nature lover and bird watcher, then you are at the right place. You can take nature walks in the neighborhood and if you have a pet with you, this will be an excellent place for a holiday. Being a gated property it is very pet-friendly and kid-friendly.
JEOLIKOT – A QUIET HOLIDAY GETAWAY NEAR NAINITAL
If you are in the mood to venture out for a day trip, there are many options to choose from. One can visit Nainital, Ramgarh, Mukteshwar, Almora, Jageshwar or the lake towns of Bhimtal and Naukuchiyatal. The location has lovely nature walks if you wish to just walk around and see the honey bee breeding, or appreciate the local flora and fauna.
Visit Vergomont during your next vacation. Best homestay in Nainital, Heritage property that will give you unique stay experience. And please keep the mountains clean when you travel.