Jeolikot, an ideal place for a vacation all around the year having very temperate weather. Its close proximity to Nainital makes is an ideal stay option for people traveling to the hills but wish a more calm and peaceful stay option.
While the weather in Nainital gets cold during winters but Jeolikot being at lower altitude offer a round the year holiday option.
Weather in Nainital varies throughout the year but now days it attracts tourists around the year Nainital weather
Dec / Jan / Feb: 3-12°C – sunny, occasional snowfall
March / April / May: 6-18°C – clear and sunny
June / July / August: 10-25°C – pleasant and clear, occasional rain
Sept / Oct / Nov: 10-20°C – pleasant with occasional rain
Why visit Jeolikot
Tourists visit round the year, especially in summer months to enjoy the calm, secluded and cool environment.
Jeolikot is a haven for nature lovers and those visitors who are interested in bird-watching, butter fly watching and floriculture.
Highly recommended for families, corporate groups, couples, kids, solo travelers Bird watching, camping, emerging destinations, village tourism, weekend getaways are few of the preferred activities one can indulge in.
Winters are great time to visit as well. Clear starry night, clear pollution free weather, bon-fires add up to the charm and helps relieve stress from day to day routines.
WEATHER IN JEOLIKOT, NAINITAL
Summer:15-25°C
Winter: 8-15°C
Altitude: 1219 m
Pincode: 262545
STD code: 263127
YOGA AND JEOLIKOT
The peace and serenity is very inviting for one to experience the amazing powers of meditation here in Jeolikot by joining the experts of Meditation. Story says that Gurus Swami Vivekananda, Shri Aurobindo and Swami Vivekananda spent much time here as they found this tiny, calm village an ideal location for solitude and healing.
BEST PLACES TO STAY IN JEOLIKOT
Jeolikot offers calmness and tranquility offering a few luxurious cottages and resorts as stay options. During peak season, finding accommodation could be difficult. Heritage home stay, The Vergomont, the cottage jeolikot and few other camp resorts come recommended as stay options for visitors.
These locations offer a good stay experience and provide the visitors with the joy of both the summer comforts of a hill station and moderate coolness of winter in the plains.
SHOPPING
Not many people know that Jeolikot is a paradise for fruits lovers and it used to be a very popular fruit market in whole Kumaun region. Numerous exotic fruits are grown here including apples, peaches, apricots, strawberries etc.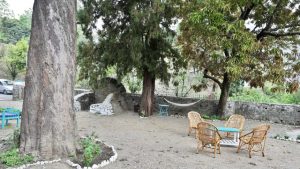 The must purchase is the organic honey, and fruit products like jam, fruit crushes and spreads. Besides numerous treks and adventure sports activities, the Bhudbhumiya Mandir , a temple, has a major significance and importance for the people of Jeolikot.
The views from the temple are mesmerizing with smooth breeze blowing and filling one with peace and joy.
PLACES TO VISIT AROUND JEOLIKOT
NAINITAL: Situated at a distance of about 15 kms from Jeolikot, formerly a British hill station, its set around Nainital Lake, a popular boating site with Naina Devi Hindu Temple on its north shore. Mountains including Nanda Devi, Uttarakhand's highest peak.
BHIMTAL: At around 32 km from Jeolikot, Bhimtal is a perfect place to go on a day trip, there's a Butterfly research Centre and an aquarium in the center of Bhimtal lake.
Aries: Aryabhatta Research Institute of Observational Sciences (ARIES) is one of the leading research Institutes which specializes in Astronomy, Astrophysics and Atmospheric Sciences. An autonomous body under the Department of Science and Technology (DST), Government of India, the institute is situated at Manora Peak (1,951 m (6,401 ft)), about 9 km from Nainital, a popular hill station in Uttarakhand, India. The astronomical observatory is open to public during working days at afternoons, for night viewing however, three four days on moonlight nights are fixed and prior permission is needed.
KAINCHI DHAM : Kainchi Is a placed at an altitude of (1400 MT) On the Nainital – Almora Road, at a distance of 9 Km from Bhowali and 17 Kms from Nainital is a modern pilgrim center. This place has achieved recognition owing to the ashram of the famous Shri Neem Karoli Baba Maharajji.
Naukuchiatal: It is a lake in Nainital, known for having nine corners. This lake is still untouched by majority of the tourist population and owing to this, has managed to maintain its serenity till date. Take a walk around the nine cornered lake to enjoy the beautiful natural setting. Otherwise, you can also go on a boating tour, paragliding and explore the scenic surroundings.
Mukteshwar / Ranikhet / Almora / Jageshwar: All these beautiful locations are within reach but need more travel time ranging for 3 -5 hours.
For more information visit
https://en.wikipedia.org/wiki/Jeolikot
https://uttarakhandtourism.gov.in/destination/jeolikot/